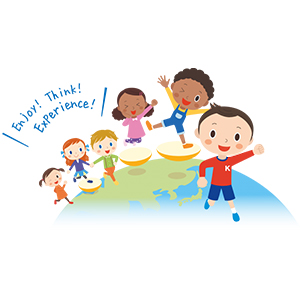 English
Immersion Activities
Don't be afraid of making mistakes!
Let's try communicating in English!
The purpose of Kumon English Immersion Activities is for children to realize that "English is a communication tool" and to gain confidence by using English without the fear of making mistakes. We also hope that children will broaden their horizons and experience diversity while interacting with Group Leaders from various countries around the world.
read more
About Kumon English Immersion Activities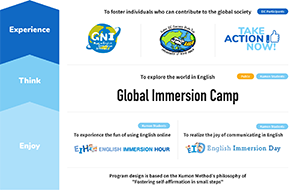 Kumon English Immersion Activities (KEIA) are carried out with the hope that children will become individuals who can contribute to the global community in the future. KEIA Leaders, who are from different countries around the world, facilitate these activities and children get to experience diversity by communicating with them.



English Immersion Hour (EIH) is a short online program where children can experience the joy of communicating in English.
Global Immersion Camp (GIC) is a four to six-day program for children with a more advanced English level to deepen their understanding about cultural diversity and to learn about various global issues through a communal lifestyle together with KEIA Leaders and friends from all over Japan.
As the activities progress from EIH ⇒ GIC, children gradually grow in confidence, broaden their worldview and take on higher challenges to realize their goals and dreams.