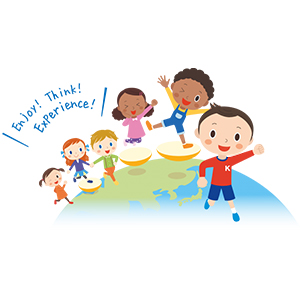 English
Immersion Activities
Don't be afraid of making mistakes! Let's try communicating in English!
The number of people around the world who speak English as a foreign language is far greater than the number of people who speak English as a native language. We wish participants of the English immersion activities take on the challenge of communicating in English to connect with people from diverse backgrounds and become motivated to pursue higher goals.
read more
English Immersion Camp
Kumon's English Immersion Camp (EIC) started in 2001 with the aim of nurturing individuals who can make a contribution to the global community by using their ability to communicate in English.
In this camp, children aged between eight and twelve gather from various parts of Japan, and take on the challenge of spending several days in an entirely English-speaking environment with people from different countries. Through various activities, children deepen their understanding about global issues.
English Immersion Day
Kumon's English Immersion Day (EID) is a five-hour program for elementary-aged children studying English at Kumon centers in Japan. Through group activities, which encourage participants to communicate in English, children gain confidence in themselves saying "I never thought I could communicate in English with people from so many countries". EID is an opportunity to reflect on one's ability and clarify one's intention to learn English.